Latest Kitsrus.com News
8th July 2012
K193 is a Smart Sealed Lead Accid (SLA) Battery Charger with current limiting. The charger uses a two step process for charging SLA batteries - a current limited 'fast' mode followed by a constant voltage 'float' mode. maximum charging current is 1 Amp. An onboard LED indicates when the charger is in 'fast' mode. When the LED goes out the battery is charged and the charger has switched to 'float' mode.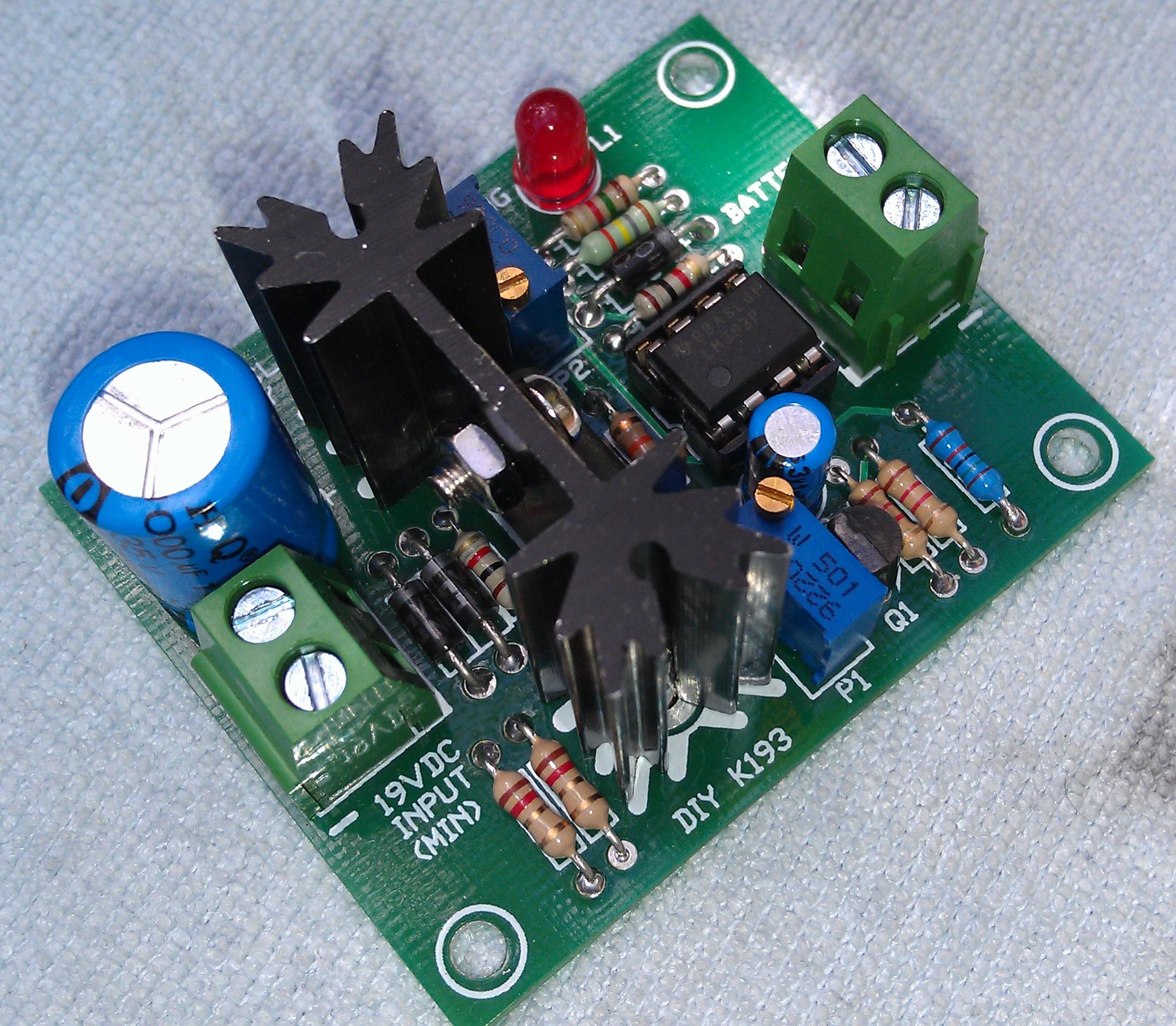 9th february 2011
We at DIY Electronics are pleased to present our latest new Kit, the Serial LCD Controller, Kit 192.
This serial display module provides easy operation of a standard character LCD display. The simple
command structure allows text and bar graphs to be displayed on the LCD. Provision is made for up to 8 user-defined characters. The module also includes four digital outputs.

The LCD backlight and contrast may be adjusted under program control to compensate for differing lighting conditions and viewing angles.

The module supports 2 interfaces:
• Serial RS232 interface
• Serial TTL interface

The module has the following features:
• Communicates over serial interface with software controlled speed
• 32 Byte buffer for messages received via communication interface
• Up to 8 custom characters can be defined
• Built in commands for drawing bar graphs
• LCD Backlighting controlled via software, has 254 brightness levels
• LCD Contrast controlled via software, has 254 contrast levels
• 4 digital outputs
• Save the basic settings in module internal EEPROM
NOTE:
The supplied LCD does not have backlighting. User must supply a backlit LCD if this feature is required.
9th february 2011
STOCK CLEARANCE: Kit 93 PC Data Acquisition Unit
Use the parallel port of your PC as a real world interface. It enables your PC to both monitor & control external events and devices. The world is a mixed analog & digital world. With the appropriate sensors the PC can monitor physical variables such as pressure, temperature, light intensity, weight, switch state, movement, relays, etc, process the information and then use the result to control physical devices such as motors, sirens, other relays, servo motors (up to 11) & two stepper motors
21st of December 2010
We will be closed as of today (The 21st of December), till the 10th of January. We here at DIY Electronics wish you all a Merry Christmas, and a Happy New Year.
30th of April 2010
Introducing 3 Channel RGB LED Controller
This kit has been designed to function as a versatile LED control module. The LED controller provides 3 high current channels to create light effects for the presentations, parties, etc.
The module includes preprogrammed light sequences and can be used as a standalone LED controller. The module also supports a serial interface which uses only 2 wires to communicate with your microcontroller or PC. The simple command set allows easy module control from the microcontroller or PC.
The module is ideal for use with flexible LED light strips.
Key Features
3 high current channels with independent control.
Suitable for common anode RGB LED strips, LEDs and incandescent bulbs.
6 preprogrammed light sequences with hard transition effects (running light, Strobo, random colors, etc…) and smooth fade effects (color change, slow on/off, etc...).
Custom user-editable sequence.
Wide-range effect speed adjust.
Memory for last selected sequence and user-editable sequence.
Serial TTL interface to control from your microcontroller or PC.
Addressable. Multiple modules can be connected with independent control for each module.
Windows software to control the module from PC and download the user-editable sequence.
Small form factor (2.2" x 1.55", 56 x 39 mm).
Specifications
Operating Voltage
12VDC (nominal)
Channel Current
5A max, 12A max for all 3 channels
LED PWM frequency
480 Hz
LED intensity control
250 intensity levels/channel
Communication Interface
Serial RS232 and serial TTL interface, 9600 baud, 8 data bits, 1 stop bit, no parity, no handshaking
Dimension
2.2" x 1.55" x 0.5", 56 x 39 x 12 mm
26th of November 2009
Please be advised that we will be closed from 20th December 2009 until the 7th of January 2010 for Christmas and New Year Holidays.
28th of September 2009
K190 - 4 Channel Temperature Monitor & Controller
The kit has been updated to include a DS1820 sensor plus extra components for use when using sensors on long cable lengths. Updated documentation also.
This kit is an 'extension' of the K145 Temperature Logger kit. Like the K145 it features four (4) temperature inputs using the DS1820 digital sensor. In addition four (4) relays have been added to provide output control. Supplied with plastic case and front/rear panels for a professional looking finish. Commands for reading temperatures or controlling relays are sent via the RS232 interface using simple text strings (see documentation for details). The kit can be controlled using a simple terminal or communications program (such as Hyperterminal) or via a freeware Windows application written by John Gray. Click here for kit features and specifications and further details of freeware software.
Note: Kit requires connection to a PC running software for temperature monitoring and/or control.
1st of May 2009
Kit 135 back in Stock. DC to DC Converter.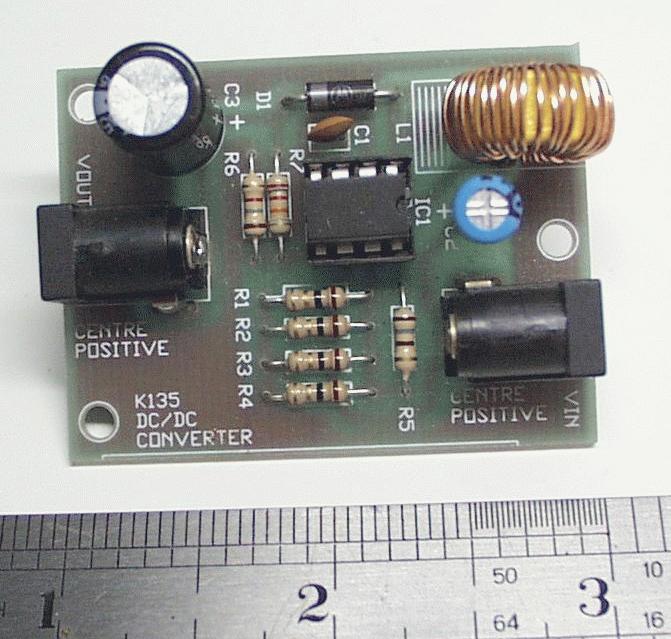 11th of November 2008
Stock Clearance. Limtited Stock Only
Kit 128 and Kit 150.
Please contact john@crowcroft.net for details.
28th of October 2008
Introducing a new kit :

Kit190 4-Channel Temperature Monitor and Control
Functionally, it's a very nice little unit -- easy to communicate with (a simple command structure, and simple data structure), and easy to do hookups. Internally, the relay channels are independent of the sensor channels. So, in your software you can set up linkage in any way you like. The K145 is constantly pushing data out the serial line. With the K190, you have to poll the board for temperature data. The board will work with the same DS1820 and DS18S20 sensors that the K145 uses, but can handle the DS18B20 sensor as well.



7th of August 2008
We have updated the entires for Kits 108, 134, and 145. Please check them out for further details.
9th of April 2008
Introducing new kits 188/189 ISD1740/17120 Second Voice Recorder Module. Non-volatile multi message recorder using ISD chips. Just change one resistor for longer duration. Standalone operation using just six onboard bottons. Record via built-in microphone or external line in. Speaker and line out connector. SPI interface. 8-24 VDC.
Now Available!
22nd of March 2008
Now available
Kits 108 and 141 are now available in a fully ready, assembled and tested form. Please contact your local distributor for details.
22nd of October 2007
New Website
I've spent a few days and created a new website. Hope you all like it. Send comments or criticisms to john (at) crowcroft.net
None available for this item
RoHS (lead free) regulations

From July 1st 2006 all electronic devices and components, including kits, imported into the European Union must comply with RoHS legislation governing the amount of lead content. A number of other countries around the world are also considering or have already implemented similar legislation. As a result the kit manufacturer, DIY Electronics, is slowly changing over to use lead free PCBs and components in ALL kits. This will be a gradual change but should be complete by the end of 2006.

These changes will affect the price of the kits as leadfree components and PCBs are more expensive than the 'normal' type, in some cases by as much as 50%. Unfortunately these costs will have to be passed on to the end user so the cost of kits will slowly increase as each kit becomes 'lead free'.

The other change for end users will be solderability. Lead free components and PCBs cannot be soldered using current 'normal' soldering irons and solder. Lead free soldering requires higher temperature soldering irons and lead free solder. A lot of information regarding lead free soldering is available on the Internet - a Google search will turn up many hits. It is highly recommended that users familiarise themselves with leadfree soldering techniques before assembling any kits.
16th of October 2007
Please check the Pic Programmer section of the website for the updated DIY pack for them.
26th of September 2007
DIY Electronics is pleased to announce the launch of a new Kit, DIY Kit 187, the Stepper Motor Chopper Driver
DIY KIT 187: STEPPER MOTOR CHOPPER DRIVER
The Stepper Motor Chopper Driver is a Bipolar Stepper Motor Drive with easily adjustable current control up to 2A, based othe SGS-Thompson L297 and L298 stepper motor controller and driver IC's.
Stepper motors are rated by current and and not by voltage. A chopper driver because it is switching on and off current allows a set current to be fed to the coils and not be dependent on the voltage of the power supply. The Chopper Driver also allows for the use of higher voltage power supplies (up to 36V) to overcome the effects of the inductance of the coils giving better performance and a higher top speed.
Features Include:
Easily adjustable motor current (0.A to 2A)
Full and Half stepping mode
Step and Direction inputs
Synchroniseable when using multiple drivers
Enable input can be connected to ground to disable motor
Connections via screw terminals
AVAILABLE NOW!
23rd of July 2007
We will be closing shortly on the 1st of August for two weeks, until the 15th of August 2007.
2nd of April 2007
I've deleted the new forums and reverted back to the old one - this was due to complications in trying to set up tough anti-spam filters, which stopped anyone from posting on the boards. I apologize for any inconvinience caused,
25th January 2007
Introducing new DIY Kit 187 "Bipolar Chopper Stepper Motor Driver Kit"
Description:
Our new bipolar chopper drive allows you to get better performance from your stepper motor.
It uses a dual full bridge motor driver based on SGS Thompson chips L297 & L298. Motor current for each phase is set using an on-board potentiometer and the controller is capable of
handling motor winding currents of up to 2 Amps per phase.
It operates from a DC supply voltage of 9-36V. The drive provides all basic motor controls, including full or half stepping of bipolar steppers and direction control. Works with our range of large bipolar stepper motors MO-101, MO-102 and MO-103
All signals (Step, Direction, Enable) can be interfaced to external logic or a microcontroller. You can easily control the motor from your computer's parallel port or our serial stepper controller card!
This controller is perfect for desktop CNC applications.

Finished Dimensions (mm): 88Wx105Lx35H
AVAILABLE SOON!
2nd March 2007
The new forums have been set up, I hope you enjoy them as much as I do.
24th January 2007
We are pleased to announce that we are introducing several new products into our range of electronic kits!

DVR81xx Series - Image Recording Module

Description:
"This image recording module is a standard module which can be designed for various applications by firmware change. We will provide some standard firmware but also help customer making his own application."
Features and Details of DVR81xx
DVR81xxx application notes
Kit Evaluation Information
DVR8100 - Image Recording Module (With 4 bit command control)

Description:
"This image recording module is a standard module which using 4 bit data for various command control the module."
Features and Details of DVR8100
NOW AVAILABLE
16th of January 2007
To ALL our customers,

There are some rumours getting around that DIY Electronics (HK) LTD has been sold or taken over. THIS IS NOT TRUE. It is still owned and operated by Ladda, the wife of the deceased founder Peter Crowcroft. Also, there are no intentions to sell the business either.
8th of January 2007
We at Kitsrus would like to wish everyone a prosperous new year! And we are back in Hong Kong and everything is running smoothly.
-The Kitsrus Team
31st of October 2006
Just a forward notice, but DIY Electronics will be closed for the duration of roughly 2 and 1/2 weeks from the 23rd of December until the 8th of January. On which we will be open again.
23rd October 2006
I have just set up a "Surplus Corner" under the "Misc" button on the left on the navigation menu. The page will list surplus components that we wish to sell.
Also on the page, there is a section introducing Victor Lee, and his company MCU
Click the links for more details.
There will be delays in shipment and orders for about 2 weeks after the 30th of August, due to reconstruction of the office that houses DIY Electronics/Kitsrus because of new building regulations. We apologize for any delays and inconvinience this may cause.
I've just finished making and uploading the new website - if you have any feedback, comments, praise, suggestions, criticisms, please send them along to john (AT) crowcroft.net
Edit: The PIC Programmer and Misc pages are not yet up, they should be soon within a few days
Just a bit of clarification - we have received some emails about the "Small order via paypal" topic. I would like to clarify that we are not selling Kits directly to customers, but rather, we are selling small components, resistors, ICs, etc etc for people who want them - not full scale completed Kits that we sell to distributors. We apologize for any confusion this might have caused. Edit: We will put up a page on the website soon relating to excess and stock components that we wish to sell.
The website listed in the documentation for downloading DIYpacks for PIC programmers K128/149/150/182 is 'offline'.